14 Sep

STREAM OF INVESTMENTS IN ITU ÇEKİRDEK: MORE THAN 20 MILLION TURKISH LIRA HAS BEEN INVESTED IN THE START-UPS SINCE JANUARY!

Since the beginning of 2020, 15 start-ups have succeeded in receiving investments exceeding 20 million Turkish lira at ITU Çekirdek Incubation Center, which is listed in the top 5 in the World among the entrepreneurship incubation centers of universities. Thus, the amounts invested at ITU Çekirdek in the first seven months of 2020 quadrupled the amounts invested in the first seven months of 2019. 

Since January of the present year, total investments have exceeded 20 million Turkish lira at ITU Çekirdek, the Incubation Center of Turkey's entrepreneurship and innovation base ITU ARI Teknokent, in many different fields from educational technologies to environmental technologies and from transportation technologies to health technologies. Thus, the amounts invested at ITU Çekirdek in the first seven months of 2020 quadrupled the amounts invested in the first seven months of 2019.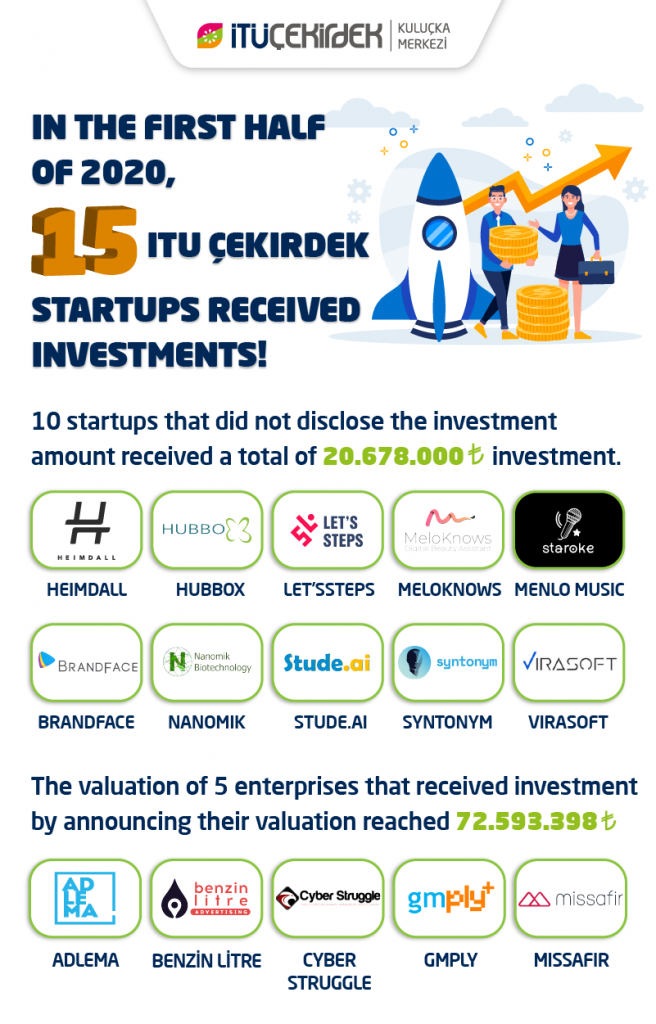 The pandemic process did not stop the entrepreneurship ecosystem!
Arzu Eryılmaz, Director of ITU ARI Teknokent and Founder of ITU Çekirdek, expressed while speaking on the subject "The global pandemic process undoubtedly affected the companies and entrepreneurs all over the world. However, during this period, we have witnessed that many technology-producing enterprises in Turkey have continued to develop their products without hesitation. There have been many start-ups that pivoted their products and services with a very agile move. We see that these efforts of entrepreneurs have not been shown in vain. According to our data, while the amount invested in our start-ups in the first seven months of last year was 4 million Turkish lira, the amounts invested since January have quadrupled and exceeded 20 million Turkish lira and together with our other start-ups, the valuation of which exceeds 72 million Turkish lira but cannot be announced due to the investment contract, the investment amount is actually much more than 20 million Turkish lira. As ITU Çekirdek, we are pleased to contribute to the developments of the start-ups we cooperate with and to be the center of technologies opening from Turkey to the world".
Below is the detailed information of the start-ups receiving investment:
* The relevant information is kept confidential in accordance with the contracts signed by and between the investor and the entrepreneur.
For detailed information about the start-ups;
ADLEMA: It offers the industry's largest portfolio of leakage detection devices, together with a data management and production analysis software to help optimize the leakage testing system and improve component efficiency.
BenzinLitre: It is a mobile application allowing users to save money and make the decision-making process smarter by listing all gas stations with their updated prices, accurate locations and on-site facilities, as well as solutions to the different needs of car owners such as recreational facilities, road assistance and insurance offers.
BrandFace: It is a video sharing platform rewarding the user with money while providing the original and creative content required by brands with its mass advertising agency model.
Cyber Struggle: Develops cyber security technologies and certificates.
GmPly: It is a SaaS e-learning platform allowing education/training institutions and corporate companies to create free interactive video training for their training departments as well as allowing real-time KPI measurement through these videos.
Heimdall: It is a high-tech product making use of image processing with high artificial intelligence and machine learning capacity offering assistance to customers financially and spiritually with a software against the risks they have suffered previously or they have not encountered before. It analyzes the data collected with a drone with dozens of cameras and sensors on it, predicts the risk of any facility or any fire.
Hubbox: With the designed IoT device and software, it provides easy, fast and secure access to machinery and desired spots without requiring expertise too much technical information.
Let'S Steps: It is a digital sports platform aimed at achieving sustainable behavioral change by using game dynamics for individuals who break away from their nature and get into the habit of immobility with changing life trends.
MeloKnows: It is a digital beauty assistant allowing users to access the right personal care products and services from their location by innovative means.
Menlo Music: Staroke is a social singing platform which is the first one released by Menlo Music, developing and aiming to launch music and entertainment-oriented mobile apps. Users can create song recordings either individually or with others. Staroke brings a music studio environment to phones with professional sound and video effects. Staroke aims at everyone who wants to have fun, to be discovered, to get socialized with music.
Missafir: It is a stress-free and short-term home rental platform for homeowners. It offers both digital and operational solutions to find suitable candidates for those who want to rent out their homes in a short/medium term or who want to share their homes with guests.
Nanomik: Nanomik develops natural preservatives which keep food and agricultural products as fresh they are on their first day without being spoilt.
Stude.ai: It is an AI-powered student assistant allowing a student to discover and reach their potential.
Syntonym: Syntonym maintains analytical metrics at maximum rates, anonymizing camera image data in a GDPR-compliant manner.
Virasoft: It provides more effective diagnosis of mainly cancer as well as other pathological diseases with the projects and products it performed by it in the digital pathology and telepathology sectors.